In the last few years, the emergence of paid newsletter platforms, such as Substack, Revue, and Bulletin, have opened up new opportunities for individuals and small publishers to distribute and monetise content. A number of high-profile columnists have left big news organisations to run newsletter-based businesses, with a few of the most successful earning salaries in the high six figures.1 At the same time, digital-born brands such as Politico and Axios have found that smart, journalist-curated emails have been a key driver of growth for businesses which cover a range of niches from politics to health, technology, sports, and local.2 Meanwhile, mainstream news organisations have been shifting resources into email production as they try to attract new subscribers, build loyalty with existing users, and introduce more personalisation into their digital products (Jack 2016; Newman et al. 2020). The New York Times, for example, now produces 50 different emails read by 15 million people a week.3
Much of this recent free and paid newsletter activity has been focused on the United States, but we were keen to know if this had extended elsewhere. More widely, we wanted to understand more about the appeal of newsletters in general. In what ways can this low-tech and often unfashionable medium help build or support sustainable journalism?
Our Digital News Report data show that email newsletters remain an important channel across countries, with an average of 17% using them weekly. In the United States, 22% use newsletters or email alerts, with almost half of them (10%) saying it is their main way of accessing digital news. Austria (24%), Belgium (23%) and Portugal (22%) also have surprisingly high email usage, but Norway (11%) and the UK (9%) have some of the lowest levels. This may be because their stronger brand connections – with users more likely to go directly to website and apps – mean that publishers feel there is less need to push content to audiences.
<!–
!function(){"use strict";window.addEventListener("message",(function(e){if(void 0!==e.data["datawrapper-height"]){var t=document.querySelectorAll("iframe");for(var a in e.data["datawrapper-height"])for(var r=0;r

Despite the increase in the supply of newsletters in the last few years, the proportion accessing them has actually fallen in many countries, in part because of increased competition from newer channels such as social media, online aggregators, and news alerts via mobile phones. In the United States, weekly use has fallen slightly from 27% to 22% since 2014 as the use of mobile alerts has tripled from 6% to 20% and social media access has also grown.
<!–
!function(){"use strict";window.addEventListener("message",(function(e){if(void 0!==e.data["datawrapper-height"]){var t=document.querySelectorAll("iframe");for(var a in e.data["datawrapper-height"])for(var r=0;r

It is important to note that email news is valued mainly by older, richer, and more educated news consumers, most of whom are already deeply invested in news. One in seven (15%) of over 55s in the United States say email is their main way of accessing news – about the same as say social media. But only 3% of 18–24s rely on email access as a main source compared with 41% for the same group who say social media. More than 80% of all of those in the United States who use email for news are 35 or older.
<!–
!function(){"use strict";window.addEventListener("message",(function(e){if(void 0!==e.data["datawrapper-height"]){var t=document.querySelectorAll("iframe");for(var a in e.data["datawrapper-height"])for(var r=0;r

When looking at the originating source, we find that across ten selected countries,4 over half (53%) of those who get news emails receive them from mainstream media organisations. Other sources of email news include alternative news sources (27%), specialist media that people may find useful for work (23%), and individual journalists operating on their own (16%).
Strikingly, our data show that emails from individual journalists in the United States (18%) are almost five times as popular as in the UK (4%) and more than twice as popular as in Germany (8%), illustrating how much further journalist-led media businesses have developed in the large and entrepreneurial US market. Younger respondents in the US were also much more likely to be receiving emails from individual journalists operating on their own than older respondents. We also find a significant overlap between those receiving emails from the mainstream media and these other sources. This suggests that alternative and journalist-led emails, which often speak to smaller and more specialist audiences, are often used as a supplement to general news emails – rather than a replacement.
<!–
!function(){"use strict";window.addEventListener("message",(function(e){if(void 0!==e.data["datawrapper-height"]){var t=document.querySelectorAll("iframe");for(var a in e.data["datawrapper-height"])for(var r=0;r

The majority of email newsletter users say they enjoy the convenience of the format (65%), followed by the diverse perspectives (30%), with the tone and personality of the author (28%) and unique content (24%) also important factors for many. These perceived benefits are remarkably similar across the ten countries we surveyed, though the authorial voice was valued more in South Korea (40%) and India (55%).
Average of 10 countries


find it a convenient way to get the news. (Ease of use)


like the tone/writing of author. (Personality)


value diverse perspectives. (Range of stories)


content can't find elsewhere. (Unique)
QEmail_likes. What do you like about the email newsletter format? Base: All who accessed news via email in the last week: 3347. The countries included in the 10-country average are; Germany, Ireland, Norway, Belgium, Japan, South Korea, India, Australia, UK, USA.
What people mean by convenience becomes clear in open-ended survey responses: 'I enjoy receiving headlines in emails. I can read the article, or skip it, and use keywords for more research on the topic', says one respondent who appreciates the control and choice this format provides.
For others, convenience is more about the time-saving aspect of email. '5 things you need to know today' formats became widespread during the COVID pandemic and have now been adapted by digital operations at CNN and the BBC, for example, to other situations including Ukraine. Axios, which we have already mentioned, pioneered a pithy and concise email-writing style which it has termed 'smart brevity' to describe the value of these heavily curated products.
Examples of 'convenience' benefits of email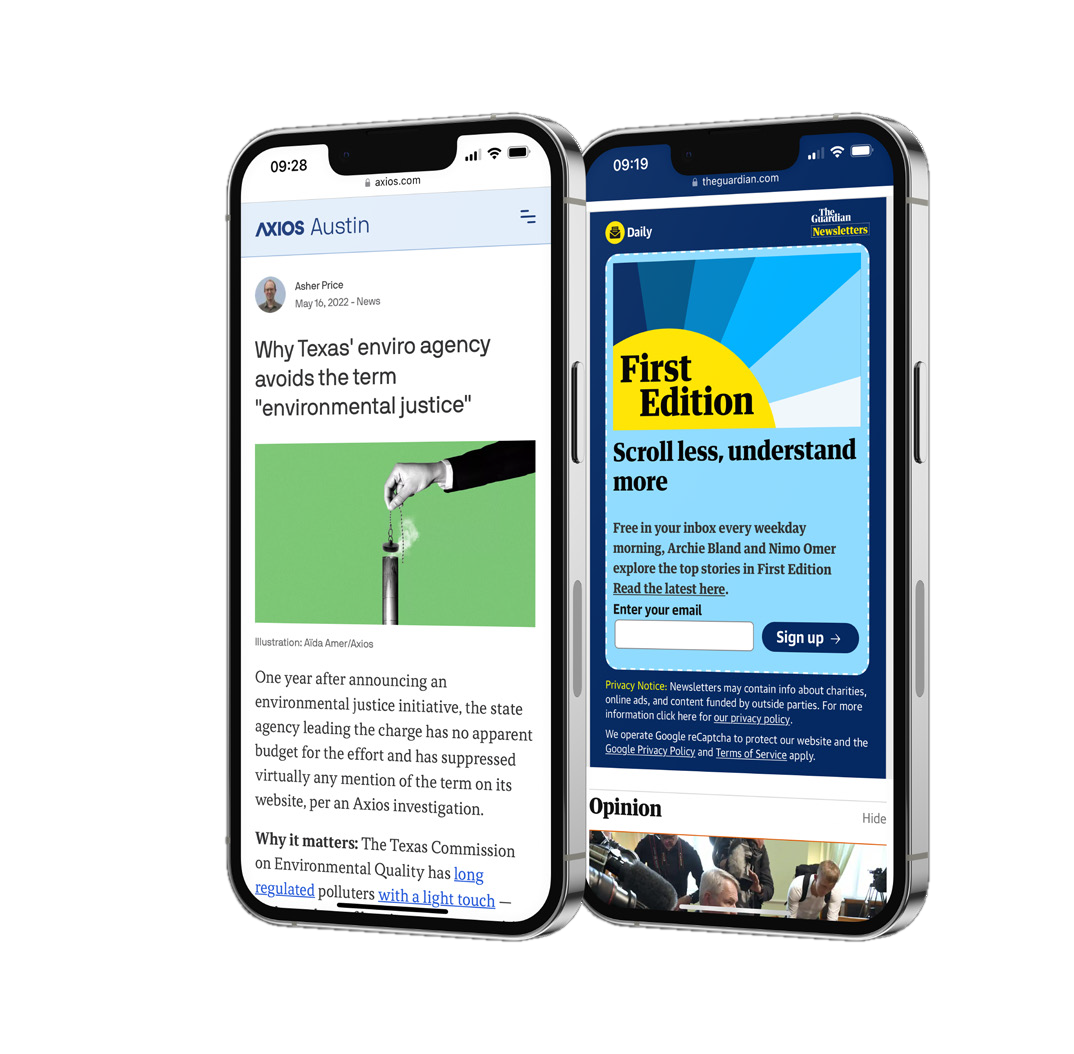 smart brevity
time saving
A decade or so ago, most email consisted of a set of automatically selected links on a particular subject, but a distinguishing feature of email newsletters today is the personality of the author. Pulitzer-prize winning journalist David Leonhardt has been curating The Morning from the New York Times for several years, bringing to it a more relaxed and informal tone. The newsletter is now read by more than 5 million people each day on average, making it many readers' first daily interaction with the paper's journalism.
But bringing a more human tone into emails can also risk injecting bias and polarising opinions. Leonhardt, for example, has been heavily criticised for his reporting of COVID-19, which suggested that over-anxious responses were doing more harm than good.5 Against this background, rival emails, like the 1440, stress the impartial curation of more than 100 sources, while the Flipside looks to bring perspectives from across political divides. There are many different ways to deliver a successful email.
Beyond general news and politics, email newsletters have been able to open up content on a long tail of subjects that would not have been practical to distribute using traditional media, or that people may have otherwise missed on a general interest news site with hundreds of stories published every day. Our respondents documented specialist emails about guns, animal husbandry, gender, their local church, the global environment – and much more. Many of these niche emails now come from beat reporters in mainstream media companies, but others are authored by passionate individuals.
More widely, traditional media companies are changing their strategies towards a channel that was previously treated largely as automated marketing. The Wall Street Journal has bundled the 10-Point morning briefing into its core subscription product, while the New York Times has recently converted 11 of its newsletters into subscriber-only products and added some new ones – in part to strengthen retention.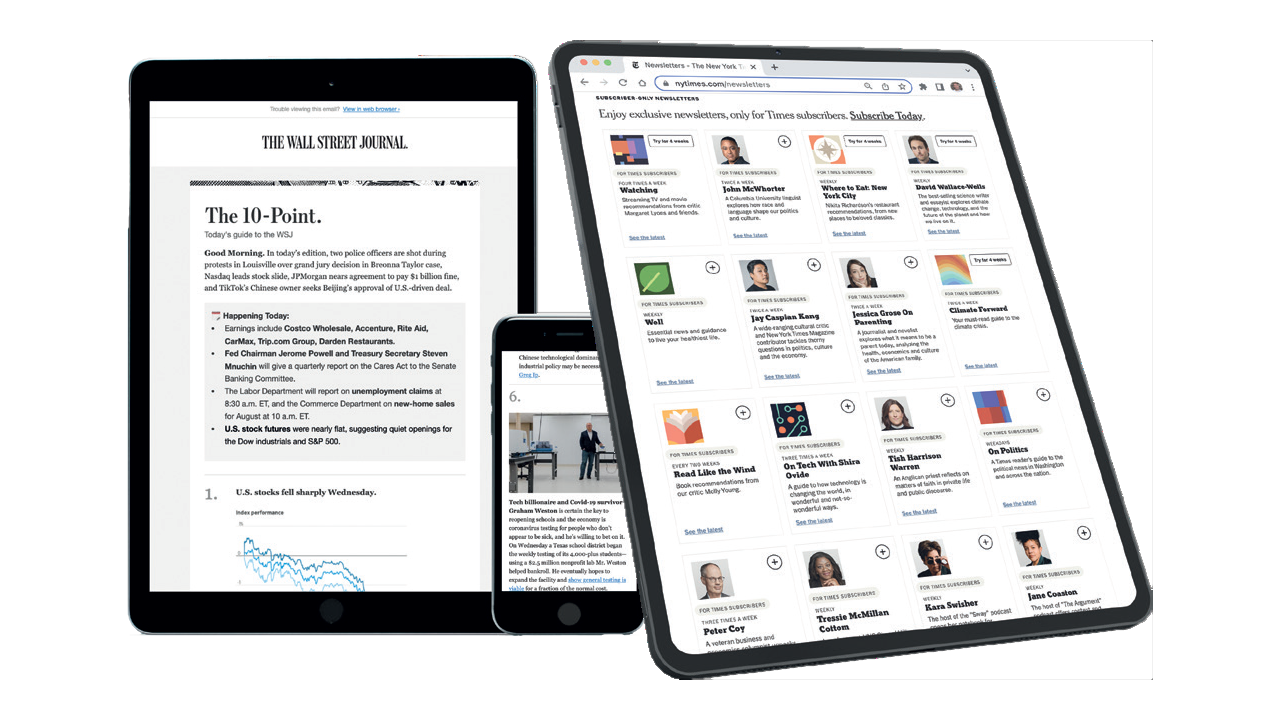 The vast majority of general news emails are free to access and are likely to remain so. Publishers see them as an effective way to engage users and bring them back more regularly to websites or apps where they can monetise traffic. But in some other cases, where a writer has a unique voice or strong opinions, the last few years have shown that it is possible for some to charge for content and/or to add value to an existing subscription bundle. Andrew Sullivan's the Daily Dish offers 'unique analysis of the news', according to one respondent who pays $5 a month for the privilege – just one of dozens of paid-for newsletters mentioned by our respondents.
Up to
of news subscribers currently pay for a journalist email in the US.
But just
in Germany and Australia.
A survey is not necessarily the best way of capturing the complexity of this story, but in a separate question about news subscription, we find that 7% of those paying for online news in the US subscribe to an email-led news product from an individual journalist, while that figure is only 1% in Germany. The 'Substack revolution' for news is still primarily a US phenomenon and it is not guaranteed to catch on elsewhere, especially given the difference in market size and context.
Across all countries, we find that email news is still a minority activity that appeals mostly to older and better educated readers. Usage has actually declined in many countries at the same time as the value to some users and some news organisations has grown. Despite its relative lack of sophistication, it remains a key tool for publishers as they focus on building deeper relationships with loyal users – as well as attracting new subscribers. Respondent comments show that the characteristics of the most successful email newsletters – convenience, unique perspectives, and a personal touch – are becoming increasingly valuable to a particular subset of users in a world of information abundance and overload. The human aspect is particularly important, with many appreciating the lightness of touch that can be provided by a personality guiding people through the news. Others find email a more efficient way of keeping in touch with a specialist subject area than, for example, browsing through a website.
As email formats continue to evolve, we also find new business models starting to emerge – beyond sponsorship and advertising. Paid newsletters are still largely confined to the United States, but the opportunities are likely to grow for those that can combine unique content with the convenience that has become the hallmark of this enduring medium.
1 Substack now has 1m paid subscribers with the top 20 newsletters collectively making more than $20 million a year. More at https://www.vanityfair.com/news/2021/11/substack-paid-subscriber-milestone-new-york-times-atlantic ↩
2 https://www.axios.com/newsletters/local ↩
3 https://www.niemanlab.org/2021/08/the-new-york-times-is-making-about-a-third-of-its-newsletters-subscriber-only/ ↩
4 Countries selected to provide a range of light, mid, and heavy email use cases: USA, UK, Germany, Ireland, Norway, Belgium, India, South Korea, Japan, Australia. ↩
5 https://nymag.com/intelligencer/2022/02/david-leonhardt-the-pandemic-interpreter.html ↩
Reuters Institute for the Study of Journalism
University of Oxford
13 Norham Gardens
Oxford, OX2 6PS
United Kingdom
Privacy Policy, Accessibility statement
T: +44 (0)1865 611080
E: reuters.institute@politics.ox.ac.uk